This web app provides a platform for New York City residents to participate in discussions surrounding new and existing initiatives impacting their communities. We empower people to engage with their representatives and foster change in their neighborhoods by connecting likeminded residents to each other and to their Community Boards.
Role
User research, wireframing, rapid prototyping, usability testing

Team
4 UX designers

Tools
Sketch, Figma, InVision, Axure, Illustrator

Timeline
5 weeks
---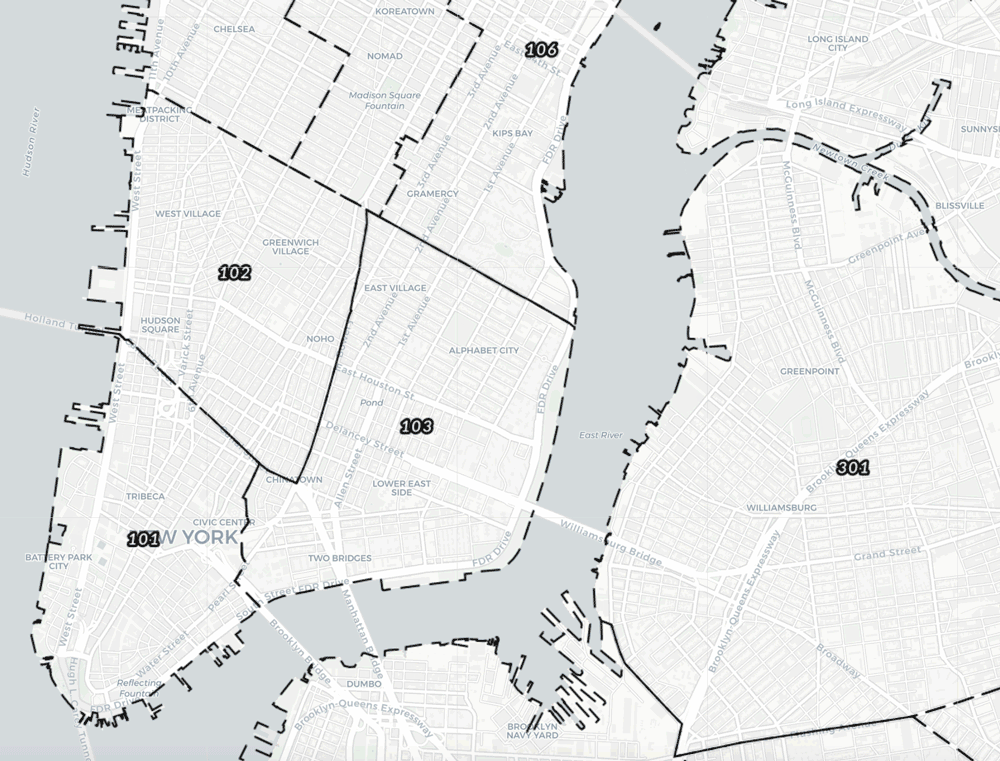 Overlapping administrative boundaries including: Community Board Districts, Sanitation Districts, School Districts, Health Center Districts, City Council Districts, Neighborhood Tabulation Areas, and Congressional Districts. Source: boundaries.beta.nyc
A Complex Representative Landscape

In a city of nearly nine million people, engaging with local government necessitates parsing a palimpsestuous system of overlapping political and administrative boundaries. Intersecting and overlapping jurisdictions – school districts, sanitation districts, city council districts, community board districts, congressional districts, state senate districts, assembly districts, and fire and police department precincts – weave an image of representation that is complex and intimidating. Rendering matters even more complex, each of these entities harbors distinct hierarchies, processes, and protocols. The jumbled political landscape is mirrored in the digital realm, where dozens of mobile apps and online resources dispense advice, share contact information, or offer other lifelines to help separate signal from noise.
Community Boards
Our team set out to better understand how New Yorkers connect with each other and with their government when they want to be heard on local issues. We became increasingly interested in New York City's 59 Community Boards. These boards represent the most local rung on the city governance ladder, and are both the voice of the community and a valuable connection point to higher authorities. They weigh in on a wide range of issues ranging from zoning and land use to education to liquor licensing, and their meetings are open to the public. We set out to better understand how Community Boards were run, how individuals engaged with them when they wanted to be heard on local issues, and where there might be room for improvement in the existing process.

From day one, our team adopted a boots-to-the-ground approach to learning about our users and how they navigate the civic process by observing the process firsthand. During the first two weeks of the project, we attended six meetings – Community Board meetings, neighborhood association meetings, and special interest group meetings – and gathered stories to learn from people's experiences resolving local issues affecting their communities. These meetings ranged in tone and tenor from calm and collected to boisterous and contentious, riddled with exasperated sighs and impudent eyerolls. We interviewed eight Community Board attendees, as well as 3 Community Board members and one City Council member, Carlos Menchaca, to learn more about their motivations, frustrations, and goals pertaining to their involvement with Community Boards. From our conversations emerged some obstacles and areas of opportunity for us to solve problems extant within the current prevailing Community Board process and procedures.
Interview Insights
The interviews revealed significant barriers to engaging with Community Boards which frustrated both regular attendees and those wanting to get involved. These themes emerged from our conversations:


The Boards' centralized decision-making structure demands in-person participation and requires attendees to understand how the city enacts change. Information available online about these processes is often opaque.
Attending Community Board meetings demands expendable time – time spent attending physical meetings and building rapport with Board members, but also time spent rallying others around a specific issue.

Speaking up at a Board meeting can be intimidating and uncomfortable, especially during especially contentious meetings and when others are quick to squash new opinions and evoke their seniority as legitimacy.
For those new to the process, the experience is overwhelming. We wanted to lower the barriers to entry by making a tool that facilitated the process and would bring more voices into the conversation.
Concepting
To bridge the gap between this impactful resource and concerned citizens looking for an outlet to be heard, our team developed three divergent concepts proposing new ways to connect individuals to their Community Boards and bypass the obstacles hindering participation in the current process. We started on pen and paper, then made mid-fidelity wireframes to test our concepts out on five potential users. Our collaborative approach to concepting was critical to staying nimble and being able to ideate rapidly in a compressed timeframe.


We did concept testing with five Community Board attendees. They validated the need for our eventual tool to perform a variety of the features the preliminary concepts had – namely a place for discussion combined with the map feature keeping residents abreast of goings-on in their neighborhoods. This being the case, we decided to merge these features in the development of our first prototype.


First Prototype
This preliminary prototype allows users to browse and comment on active initiatives happening within a Community Board, as well as peruse resolved initiatives and learn from the process behind getting those projects implemented. Users can also propose an initiative of their own and gauge support among fellow area residents. The prototype went through one round of usability testing with five potential users. All were enthusiastic about the tool and its potential applications, however there was room for improvement regarding the process surrounding how users voiced their opinions on proposed initiatives.


The tests helped guide recommendations for the next iteration in order to streamline flow for supporting or disapproving of issues. Taking into consideration the feedback from the first prototype, the final prototype unveiled a new initiative discussion layout with bifurcated agree/disagree commenting columns making it easier to assess public sentiment on initiatives at a glance. We also consolidated different ways to weigh in from the previous prototype into singular agree or disagree CTA buttons in order to eliminate the redundancies users had pointed out. The final prototype also featured a slightly revised initiative proposal flow. Notably, the option to make the initiative a petition or propose it as an agenda item has been eliminated. Instead, we propose that these items come to the Community Board's attention once an issue has amassed enough support.
Future Considerations
We envision this tool being a valuable and standardized addition to existing Community Board websites. We see potential and value in bolstering the existing (and often underutilized) set of resources the Boards have access to in the city, as well as helping their mission as the voice of the residents they serve. 59 CBs in NYC, each with their own website and different IAs, contribute to the fragmentation of information geographically, with issues re: access of residents to the information that could help them. This tool would be very valuable incorporated onto these websites, like a widget or standardized feature across all of them. Something to complement and render more robust an existing resource rather than add to the cacophony of government websites and third party tools that currently exist. Privacy concerns will have to be resolved through a verification system, because we want to protect the residents who choose to use this platform but also make sure that residents are chiming in on issues in their own communities, not others. Lastly, we want to develop the mobile version of this application, taking into account the wide variety of ways community members receive information about local happenings.
Outcomes
Our project caught the attention of a team of forward-thinking innovators at the Bushwick Generator and Urban Parti. We are currently working with them to implement some of the ideas surrounding transparent communication developed in this web app at the neighborhood scale in Bushwick.